Services¶
OpenIO SDS is composed of multiple services, running on commodity hardware, from power-efficient systems to high-performance servers. Services are designed to run across multiple nodes and do not require any specific collocation.
Here is a view of the different services available: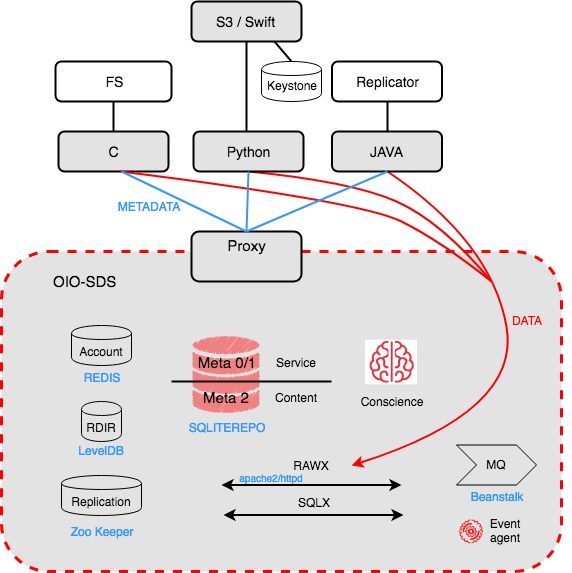 The OpenIO Swift service handles Swift/S3 user requests.
Key characteristics:
Stateless
CPU and network intensive
User authentication and service discovery is done through Openstack Keystone which is accessed directly by the client when using the Swift API, whereas when using S3, Keystone does not need to be publicly exposed.
Key characteristics:
The OpenIO SDS core solution is divided into multiple simple and lightweight services, which can be easily distributed on different nodes:
Conscience services
Directory services
Data services
Event services
Account services
The replicator service is a work queue consumer process. Its main purpose is to asynchronously replicate objects and containers from one local namespace to another geographically distant namespace.
Key characteristics:
OIO-Billing is an HTTP service that retrieves the following information for an account, useful for billing:
Number of bytes
Number of objects
Incoming bandwidth
Outgoing bandwidth
Details of selected containers
Key characteristics:
Please refer to Billing Service & API or Configure an OpenIO Billing Service for more information.